Volkswagen Golf GTI Clubsport 45, the last stand of an icon?
2 min read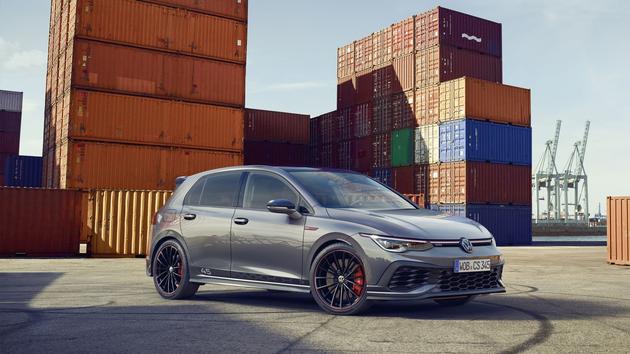 NEW – The German manufacturer is celebrating 45 years of the GTi with an exclusive 300 horsepower version.
It's not the most powerful of the Golf GTi – a Clubsport S delivered 310 hp – but it's already a miracle these days to see a 300 hp GTi stick out of its hood. Indeed, the reduction of the carbon footprint imposed by the European Commission is gradually leading to the disappearance of all vitamin sedans from the market. The celebration of 45 years of the Volkswagen Golf GTi, the mother of all vitamin compact sedans on the market, was well worth an exception. Already sold at 2.3 million units, the German sedan is the only model of its kind to have never ceased to be produced since 1976.
Based on the Clubsport version which is not sold in France, the GTi Clubsport 45 is distinguished by an imposing black painted rear window spoiler, 19-inch alloy wheels underlined with a red stripe and the inscriptions " 45 "on the body. In addition, this new exclusive version of the GTi inherits the large air intakes in the front fascia and the side skirts of the Clubsport. From the latter, the Clubsport 45 also inherits the sports exhaust as well as the locking differential at the front allowing to pass the 400 Nm of torque in the front axle.
The interior is also distinguished by a sporty atmosphere based on a flattened steering wheel, a red light signature and anthracite gray and red biton upholstery. Combined with a DSG 7-speed dual-clutch automatic transmission, the 300-horsepower 2-liter turbo engine benefits from the removal of the Vmax limiter. Close to a Golf R in terms of performance, the GTi Clubsport 45 is distinguished by its traction architecture. It should be able to reach 100 km / h in less than 5 seconds. This exclusive GTi will be marketed later this year at a price slightly lower than 50,000 euros.
.