Porsche 911 Targa 4S, under a bubble
2 min read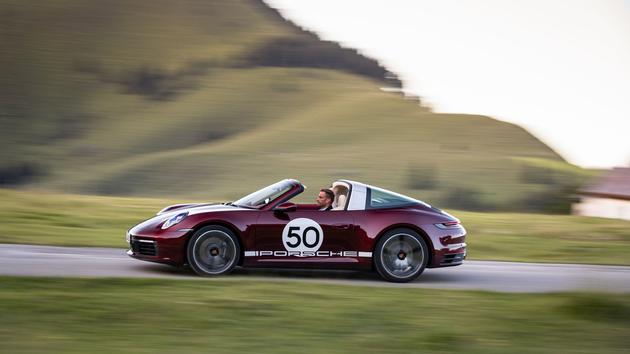 TEST – This model, which sets itself apart within the 911 range, has access to the latest refinements introduced by the 992 generation.
Big white racing numbers on the doors, a decoration in the form of white flames in the extension of the fenders, five-spoke rims: our test vehicle does not cut corners. This is a model of the Heritage series edited in limited series and numbered at only 992 units, but already sold out. Those who are disappointed can always draw on the options catalog and the Exclusive Manufaktur range to configure an almost identical vehicle, except for the badges reserved for the special series. For the rest, we find the architecture resuscitated with the 991 generation, namely the metal arch coupled to a glass rear window.
The angry temper of the flat-six
Very curved, this screen ensures perfect luminosity for the occupants all year round. This is the main originality of the Targa. A true technical feat, the kinematics of the roof alone deserve a trophy. You never tire of initiating the maneuver after making sure that the environment of the vehicle was well secured – the rear unit protrudes the stern of the 911 by 20 cm. The oiled ballet only takes 19 seconds before you can experience driving in the great outdoors without having to endure the swirls of air that are inseparable from the convertible. It is possible to hold a conservation without raising your voice. On the other hand, with the roof closed, the soundproofing is less than that of a coupé.
The latter also retains the advantage in terms of performance and sportiness due to its greater rigidity and lower weight (110 kg). This does not detract from the angry temperament of the flat-six and the unparalleled efficiency of a chassis which takes advantage of the evolutions of the 992 generation. The PASM active suspension, the large six-piston caliper brake discs at the front and "rain" mode are standard. So that the magic operates completely, when ordering, it will even be possible to choose the mixed leather / velvet upholstery from the Heritage series.
Engine: 6 twin-turbo flat cyinders, 2,981 cm3, 450 hp, 530 Nm.
Transmission: Integral, auto. 8-speed dual clutch
Dimensions: L. 4.51, l. 1.85, h. 1.29 m
Consumption: 10.7 l / 100 km
CO emissions2: 243 g / km
Speed: 304 km / h
Price: From 146,255 €
.