Mini Electric Pacesetter, on track!
2 min read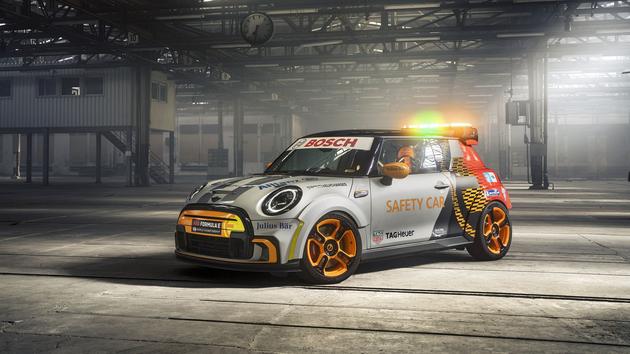 NEWS – The new Formula E World Championship safety car has been developed from an electric Mini.
It remains a family affair. Until now provided by a BMW i8, the function of Safety Car (safety car) of the Formula E world championship is now devolved to an electric Mini. A first. The car will make its debut for the third round of the 2021 season, the Rome e-Prix, on April 10. It will be entrusted to the driver Bruno Correia who already officiated in this position. For Mini, this will make it possible to make the link with the future of the brand, which will be electric.
To develop the most efficient electric Mini ever produced, many departments of the BMW Group have worked closely together. Engineers from the John Cooper Works and BMW Motorsport departments as well as the design team were involved. This is how this Mini Electric Pacesetter gets redesigned front and rear wheel arches and bumpers. For its part, the huge spoiler on the rear window refers to the last Mini JCW GP.
The engineers paid particular attention to weight reduction. The interior is thus similar to that of a racing car. The rear bench seat was removed and a cage roll bar was installed while two carbon-shell bucket seats fitted with safety harnesses were installed at the front. In the end, the Mini Electric Pacesetter does not exceed 1,230 kilos, which represents a weight reduction of around 130 kilos.
While power remains unchanged at 184 horsepower compared to the standard Cooper SE version, performance improves. 100 km are now reached in 6.7 seconds, a gain of 0.6 seconds compared to the production model. The new safety car hits 60 km / h in 3.6 seconds, which translates to a gain of 0.3 seconds. And the covers follow the same path. To go from 80 to 120 km / h, the Mini Electric Pacesetter only needs 4.3 seconds instead of 4.6 seconds for the Cooper SE.
To meet the needs of intensive use on the track, the running gear has also been revised for greater firmness. The disc brakes are fitted with four-piston calipers while the 18-inch rims fit Michelin Pilot Sport tires (245/40 R18).
.