Mini Clubman John Cooper Works, thrills guaranteed
2 min read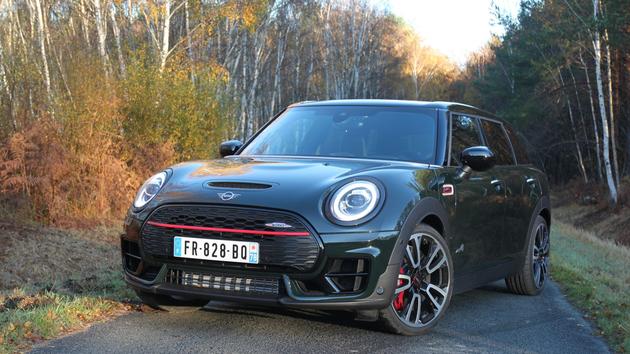 ESSAY – Tease the English? The English brand hit the headlines by installing an engine of more than 300 hp under the hood of its station wagon.
In its "british racing green" livery and with its 19-inch light alloy rims revealing red brake calipers, the Mini Clubman wagon, revisited by the wizards of the John Cooper department, announces the color. Is this really reasonable? Under the hood, engineers installed the mechanics of its cousin BMW M135i. Thus, for the first time in its history, a production Mini exceeds 300 hp (306 exactly), which is still 75 hp more compared to the previous generation.
Needle counters
To bring such power to the road, this station wagon of nearly 4.30 m lacks nothing: all-wheel drive, limited-slip differential at the front and eight-speed automatic transmission. Despite this paraphernalia, from the lowest revs, the devastating torque of 450 Nm, constant from 1750 to 4500 rpm, encourages a firm grip on the steering wheel, which will preferably be chosen in suede with the gear selection paddles. (+ 700 €). Accompanied by a bewitching crackle, the 4-cylinder 2-liter turbo smooths out, providing acceleration and pick-up comparable to a Porsche 911: 100 km / h are reached in 4.9 s, 1.4 s better than with the previous model. The sensations are in no way sanitized even if the box does not always keep pace and on small roads, the stiffened suspensions shake the occupants. This strong temperament never turns into caricature.
Inside, the Mini Clubman JCW revives memories of the past, bypassing the digital panels that thrive on the latest productions, in favor of traditional needle counters. The enveloping bucket seats draped in leather and suede also contribute to the sporting atmosphere. This is also the charm of this station wagon which transcends the John Cooper badge.
Technical sheet
Engine: 4-cylinder turbo petrol, 1,998 cc3, 306 hp, 450 Nm
Transmission: Integral, auto. 8 reports
Dimensions: L. 4.26, l. 1.80, h. 1.44 m
Consumption: 7.4 l / 100 km
CO emissions2: 168 g / km
Speed: 250 km / h
Price: 45 200 €
.