Mercedes EQS, welcome to the next world
2 min read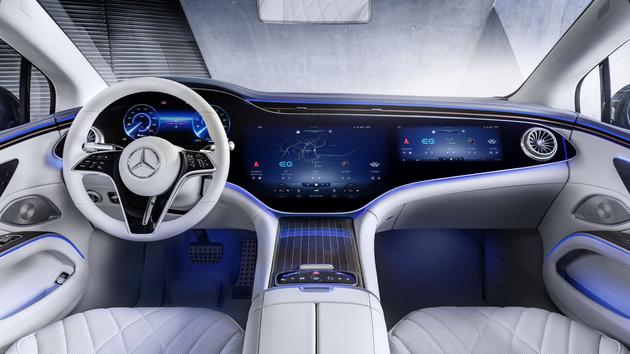 NEW – Launched at the end of 2021, the electric limousine of the firm with the star inaugurates a giant screen occupying the entire surface of the dashboard.
Wow effect guaranteed! The Mercedes EQS, the first electric limousine from the Stuttgart firm, has not finished talking with its giant digital panel completely covering the dashboard. In fact, this is a first in the automotive world. Never before has a screen taken up such a place in a vehicle. This gigantic interface is based on three screens housed under an identical polycarbonate pane. Visually, the graphics combine blue and orange. Facing the driver, we find the classic digital instrumentation made up of two round dials. The instrumentation was however adapted to the electric propulsion of the EQS. By switching the display to the "sport" world, you can access screens making it possible to view the driving status in real time and in particular the G recorded during acceleration. In addition to the "Sport" universe, two other types of display will be available: discreet and classic. They can be combined with the three modes "navigation", "assistance" and "service".
Assistance mode is used to view driving aids, in particular the distance to other users or to detect other vehicles in the vicinity. Mercedes will offer two versions of the head-up display incorporating augmented reality. The central screen and the one on the right will be tactile and will benefit from haptic feedback, a vibration indicates that the requested function is activated.
Unveiled in a few weeks, the Mercedes EQS announces a range of around 770 km, a record, made possible thanks to the capacity of its battery (nearly 110 kWh) and a record aerodynamic CX.
.