Mercedes electrifies its AMG models
2 min read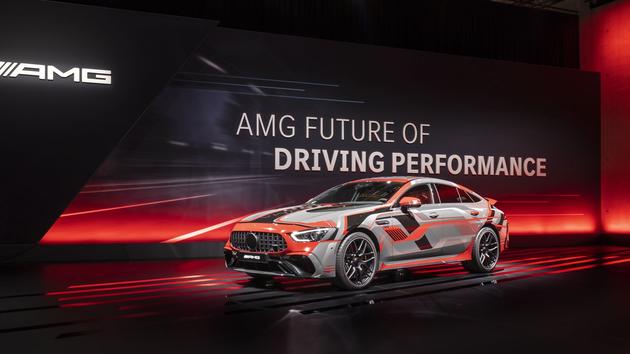 NEWS – It's a 180-degree turn: the next AMG models will be plug-in hybrids, or even electric.
It's the end of an era. Mercedes officially announces that the next sporty models in its AMG range will necessarily be plug-in hybrid or electric. A new strategy that has become essential in the context of tougher standards for polluting discharges and CO emissions2. The star firm intends to use the skills and expertise of engineers working for Formula 1 engines to develop a new family of electrified engines. This new program will be based on two pillars: on the one hand, a family of hybrid models under the E-Performance label and, on the other, a range of 100% electric vehicles derived from the new EVA architecture. Apart from the exclusive Project One hypercar still in development, Mercedes will launch at least one model incorporating the new hybrid technology this year.
As part of the E-Performance range, models will combine 4-cylinders (this is the case of the upcoming C-Class AMG) or V8s with an electric motor placed on the axle, making the next AMG models with variable all-wheel drive. In electric mode, the AMG E-Performance will be rear-wheel drive. The electric machine will be able to deliver up to 150 kW (204 hp) of power and 320 Nm of torque. It will be integrated into an electric unit (EDU) and will work with a two-speed gearbox. An electronically controlled self-locking differential completes the system. The weight distribution has been particularly careful and the battery will be installed under the rear axle. Taking advantage of the expertise of F1, the AMG 400 V battery benefits from a particularly high energy density. It uses a unique cooling system: each of the 560 cells is cooled individually. About 14 liters of liquid circulate constantly in the battery thanks to an electric pump.
In electric mode, the 9-speed automatic transmission is completely disconnected. In addition, all four and eight cylinder AMG plug-in hybrid models will be fitted with a 10 kW (14 hp) belt-driven alternator-generator ensuring the starting of the heat engine and supplying the auxiliary components (headlights, air conditioning, etc.). ..).
The AMG E-Performance plug-in hybrid 4-cylinder 2-liter engine will feature an electric turbocharger, a first for a production car. This technology comes directly from Formula 1, where it is known as MGU-H (Motor Generator Unit Heat). This engine will deliver more than 330 kW (449 hp) when combined with a 150 kW (204 hp) electric machine. In this case, Mercedes is already announcing performance superior to current models, powered by V8 engines.
.