Lexus LF-Z Electrified, an electric concept
2 min read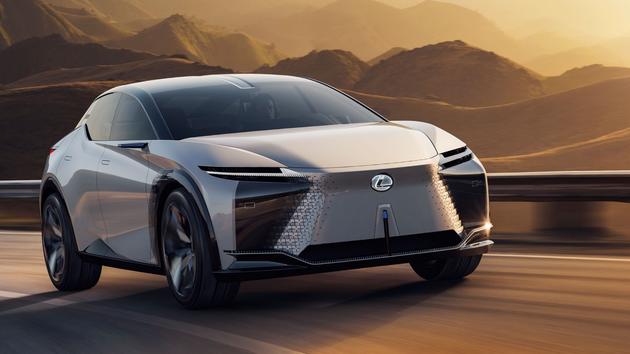 NEW – This electric and connected study gives a taste of the formal language of the next generation of Lexus.
At Lexus, there is no question of falling into line. Even with electrified engines, the top-of-the-range brand of the giant Toyota does not intend to give up what makes its signature: angular lines, almost cut with a billhook. With the LF-Z concept which announces the new stylistic language of the Japanese manufacturer, the angles are rounded slightly but the grille appears even more vertical than currently while the air intakes in the shield are enlarged.
This is visible in profile: this study of a family SUV 4.88 m long, 1.96 m wide and 1.60 m high is designed like a coupe. High beltline, low side window area, ascending side rib, rear window ending directly above the stern: the silhouette is not lacking in dynamism. The wheels placed at the four corners contribute to the balance of the design. An architecture facilitated by the use of an electrical platform. This concept announces the launch of 20 new electrified vehicles by 20, half of which are 100% electric. The other ten models will adopt hybrid or plug-in hybrid technology. In 2025, to adapt to increasingly draconian standards, Lexus will offer an electrified version in each model range. These vehicles should represent half of its sales.
The LF-Z Electrified concept features a Direct4 all-wheel drive system developed for "zero emission" vehicles. Two electric machines, one per axle, deliver a cumulative power of 544 horsepower. They are powered by a 90 kWh lithium-ion battery placed lengthwise under the floor.
Another feature of the Lexus concept: the fully glazed roof seems to form a single piece with the windshield and rear window. This treatment bathes the interior in light. Connected and equipped with the latest advances in artificial intelligence and voice recognition, the Lexus concept delivers a new human / machine interface. The dashboard is particularly sleek and the head-up display incorporates augmented reality. The LF-Z concept is equipped with a digital key which, for example, allows all members of a family to access the car without having to use a physical key. When approaching the vehicle, the handles retract automatically.
.