Corona-positive patient sitting outside LNJP hospital, waiting for two hours to get beds
2 min read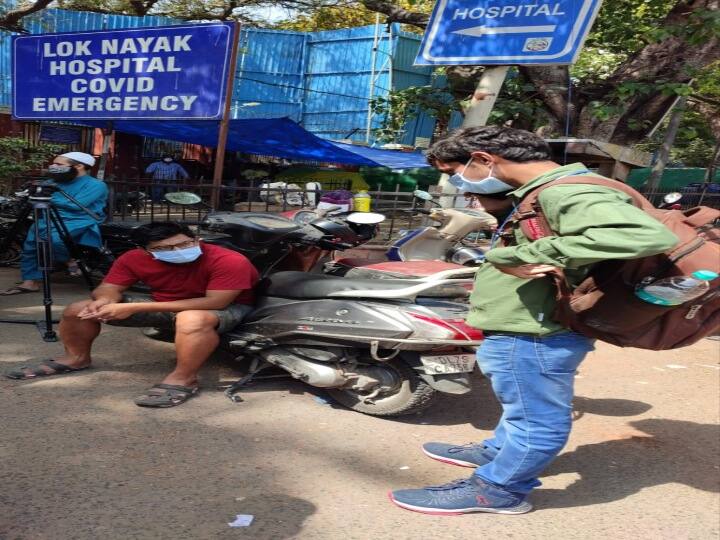 Due to the increasing cases of corona, the health services of hospitals across the country are on the verge of collapse. Even in the capital Delhi, Corona's daily
Record
Cases are coming up and the hospitals here are flooded with patients. Corona patients have to wait for hours to be admitted.
A similar case has also emerged from outside Delhi's Lok Nayak Jayaprakash Hospital where a positive coronavirus patient is waiting to be admitted on a scooter.
& nbsp;
The coronavirus report of Deepak, who lives in Mandavali, came positive last evening, but in the morning suddenly there was trouble in breathing, after which his brother brought him to the hospital on a scooter. The patient's brother Dinesh Singh says during a conversation with ABP News that, "My brother is positive but is being told by the hospital that there are no beds at the moment. Their report has come positive. We have been waiting for about two hours. There is no information about when the admission will take place. My brother's health is getting worse, he is also having trouble breathing."
& nbsp;
Coronavirus-positive patient sitting outside the hospital like this is not empty of danger for all those people here who have come to take good news of their relatives. How big this infection is for the people around it can be imagined by the fast growing figures in Delhi every day. & Nbsp;
& nbsp;
ICU beds and lack of oxygen in Delhi & nbsp;
& nbsp;
Chief Minister of Delhi Arvind Kejriwal released the latest update on today's situation and informed that more than 25, 500 cases of Coronavirus have come in Delhi and in the last 24 hours, 24 thousand cases were reported and more than 160 people Was killed. According to CM, today the positive rate has been 30 percent, which was 23 percent in the last 24 hours. & Nbsp;
& nbsp;
Delhi Chief Minister Arvind Kejriwal admitted that ICU beds and oxygen are rapidly lacking in Delhi. They said, " There are less than 100 ICU beds left in Delhi. & Nbsp; Today I spoke to Union Health Minister Harsh Vardhan Ji and Home Minister Amit Shah Ji and I told them that we are lacking in oxygen and ICU beds. We are waiting for high flow oxygen in many hospitals."
& nbsp;
Also Read & nbsp;
& nbsp;
& nbsp;
.