Companies are stepping up the electrification of their fleets
5 min read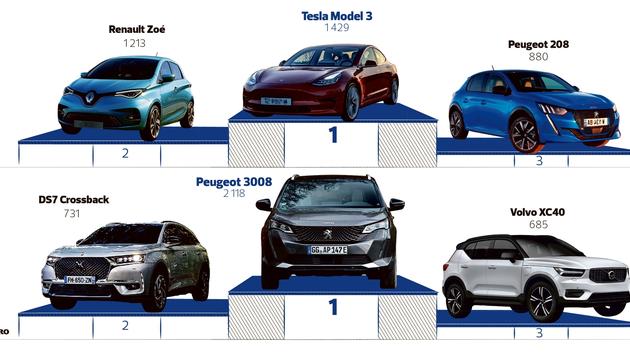 NEWS – After a difficult 2020, the company vehicle market struggles to lift its head in the first quarter while leaving more and more room for electric and hybrid vehicles.
The good performance of the first quarter of 2021 struggles to erase a particularly gloomy year 2020. While auto and utility sales to businesses plunged 15.4% last year, they recovered, posting a 29.3% increase over three months. In administrations, these trends are even more marked. The first quarter shows an increase of 59% compared to the same period of 2020 when over the whole of last year, registrations plunged by 31.4%.
In 2020, the fleets (administrations, companies, long-term rental companies) cushioned the decline in the global automotive market. According to the Arval Mobility Observatory, their registrations fell by 16.51% over the year as a whole when the French automobile market slipped by 23.81%, a difference of 7.3 points in favor of professionals.
In the first quarter of 2021, the fleet market jumped 30.37% to 217,366 automobiles and utility vehicles when the overall market grew by 23.94%. These figures must be put into perspective with the situation of 2020 when auto sales came to a halt on March 17 with the entry into force of the first lockdown. The second lockdown and the closure of car dealerships further amplified losses in 2020 and prevented the auto market from recovering.
Businesses make sparks
According to AAA Data statistics, with 194,541 sales of Private Vehicles (PCs) and Light Commercial Vehicles (LCVs), fleets represented 37% of the French automotive market in the first quarter of 2021. This percentage does not take into account short-term leasing, the volumes of which account for 8% of the market and a significant portion of the activity of which is carried out by companies.
In 2020, these same fleets mobilized 684,267 sales, i.e. a market share of 35% when short-term rental companies totaled 7% of sales and individuals, 41%.
In a lackluster market, a strong trend is asserting itself and signals the entry into a new era. For a year now, electrified vehicles have been a huge success with companies. In 2020, electric and hybrid PCs and LCVs represented 13.52% of sales, for a total of 102,164 units. Plug-in hybrids are taking full advantage of this enthusiasm since their sales (32,490 passenger cars and LCVs) surpass those of 100% electric models (29,782 registrations). Over the twelve months of 2020, the demand for plug-in hybrids really exploded with an increase of 276%. For its part, the 100% electric vehicle increased by 42.94%.
Taxation and the Mobility Orientation Law (LOM) encourage companies to electrify their fleets. Eligible for the bonus and exempt from TVS, electric and plug-in hybrid vehicles escape the traffic restrictions that apply to older diesel and gasoline models.
Established by the LOM, the Low Emission Mobility Zones (ZFE-m) regulate traffic in their territory according to the Crit'Air stickers allocated to vehicles according to their date of first entry into service and according to their energy.
Older and therefore the most polluting vehicles are excluded from ZFE-m, whose entry criteria will become more and more restrictive over the years and which will only open their doors to electric models. To the first four ZFE-m (Métropole de Lyon, Grenoble-Alpes-Métropole, Ville de Paris, Métropole du Grand Paris), the government added seven new ones last September (Métropole d'Aix-Marseille-Provence, Métropole de Nice – Côte d'Azur, Métropole de Toulon-Provence-Méditerranée, Toulouse Métropole, Montpellier-Méditerranée Métropole, Eurométropole de Strasbourg and Métropole Rouen-Normandie).
Electric forced operation
Along with the ZFE-m, the LOM has an even more direct impact on the electrification of fleets. Since 2015, local authorities, their groups and national companies must acquire or use at least 20% of electric and plug-in hybrid vehicles during the annual renewal of their fleet. From July 1, 2021, this share will increase to 30%. For the State and its establishments, this percentage remains stable at 50%. Important novelty, from January 1, 2026, the public sector will have to reserve 37.4% of its purchases for battery-powered or hydrogen-powered electric vehicles.
For the first time, the public authorities have also set thresholds for private companies whose fleets have more than 100 vehicles. From January 1, 2022, they will have to acquire 10% of vehicles with CO2 emissions of less than 60 g / km, i.e. electric and plug-in hybrid models. This share will rise to 20% in 2024, 35% in 2027 and 50% in 2030.
While taxation and the rise of EPZ-m boosted sales of rechargeable battery vehicles in 2020, all electrified technologies continued to weave their web in the first quarter of 2021. Registrations of rechargeable hybrid vehicles among companies really exploded to + 264.79% when simple hybrids soar to + 119.35%. All technologies combined, hybrids increased by 168.51% and mobilized 14% of corporate purchases.
Electricity is also growing, but to a lesser extent. The increase in registrations was 24.83% with a market share of 4%. Now, electrified vehicles represent 19% of the fleet market. In the passenger car segment alone, this share reaches 28% when it stands at 30% on the global automotive market.
While all eyes are on hybrid and electric models, companies are still attached to combustion vehicles. Even more surprisingly, the shares of gasoline and diesel increased in the first quarter of 2021. Registrations of unleaded vehicles increased by 30.6% while sales of diesel increased by 16.64%. 80% of companies still buy thermal vehicles.
A blue, white, red park
Another result, French companies continue to favor the French brands. A major novelty, in the first quarter of 2021, Peugeot stole the leadership from Renault since its penetration rate stands at 27% (53,547 PCs and LCVs) while the diamond brand continues to gain 24% of the market share. (47,296). Bronze medalist, Citroën obtains 14% of the market with 28,263 units. Peugeot, Renault and Citroën make nearly two out of three sales (65%) on the fleet market. First foreign brand, Ford takes 5% of the company vehicle market. Next come side by side Toyota (7,829 registrations), Volkswagen (7,438) and Mercedes (7,407) with 4% market share each.
Quarter after quarter and year after year, the Renault Clio occupies the first place of the vehicles best sold by companies with 9,585 registrations over the first three months of 2021. It is ahead of the Peugeot 208 (7,644 units) and 2008 (7,579 ).
The Citroën C3 (7,540) is in fourth position ahead of the Peugeot 3008 (7,525). In the Top 10 are five SUVs. These bodies account for 43% of auto sales to businesses and are now on par with sedans. Their electrification allows companies to continue to attract their employees while keeping CO2 emissions under control.
.