Can-Am Spyder RT, a UFO on the road
2 min read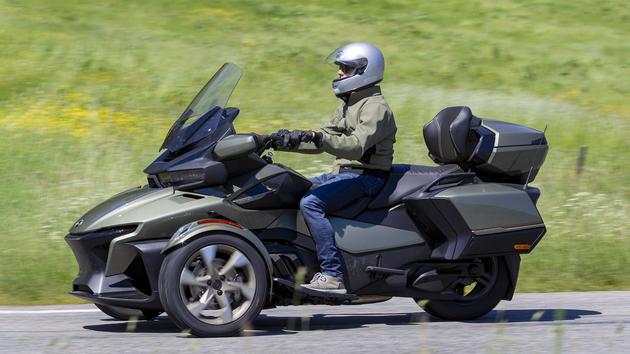 TEST – What a strange machine! With its two-wheel steering at the front and its single drive wheel at the rear, this machine is as surprising to look at as it is to drive.
It's not easy to understand the philosophy of this Canadian three-wheeler! Offering neither the protection of the car nor the maneuverability of the motorcycle, it seems at first sight to accumulate the disadvantages of both. By going beyond the codes and the a priori, over the kilometers, however, we discover a perception of the road which, although it is original, is no less pleasant. Especially since you can taste it with a simple car license, just accompanied by a seven-hour training course. What to decide motorists in search of thrills to put on the leather and the helmet.
Heated memory seats
This is the new top of the range Sea-to-Sky, displayed at € 31,999, that we discover here. Shown in an exclusive Highland Green colourway, it emphasizes comfort, with seats filled with memory foam. They are of course heated, at the front and at the rear, and supplemented, to complete the living room atmosphere, by large footrests. Long trips are all the more pleasant because, thanks to the four voluminous chests, we do not have to restrict ourselves too much to the wardrobe.
Surprise for the biker, there are no levers on the handlebars. Braking is carried out as on a car, by a single pedal on the right foot. And the reports of the robotic box take place thanks to triggers on the left hand. Vigorous at low revs, alert in the towers, the 3-cylinder Rotax is suitable for all types of driving. But, for sport, it is better to know the instructions for use. The Spyder may benefit from the full panoply of electronic assistance (ABS, ESP, traction control, power steering …), it takes, to correctly register its half-ton in the turns, caution and muscle. In fact, do not hesitate to apply a strong torque on the handlebars, pulling hard inwards and pushing hard outwards as well. Guaranteed sensations!
Technical sheet
Engine: 3 cylinders, 1330 cc, 115 hp, 130 Nm
Transmission: Belt, 6-speed semi-automatic transmission
Seat height: 755 mm
Tank: 26.5 liters
Trunk: 177 liters
Weight: 484 kg
Speed: 180 km / h
Price: € 31,999
.