BMW i4, an anti-Tesla Model 3
2 min read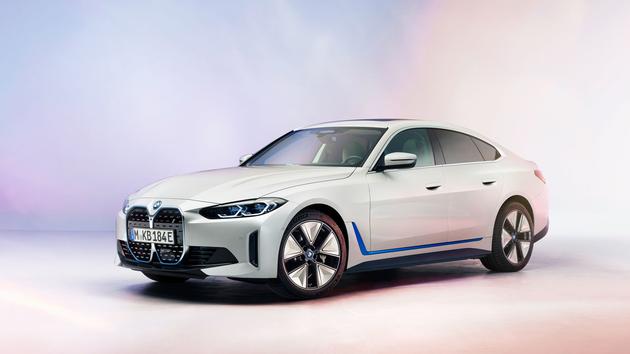 NEW – Launched at the end of 2021, the Bavarian firm's first electric sedan relies on build quality and sporty performance.
If he wants to continue to offer Motorsport branded sports models to his clientele of enthusiasts without having to go through the fine box for exceeding CO targets2, BMW has no other alternative than to accelerate the deployment of its family of electric vehicles housed under the BMW i label. This range should include 25 new electrified vehicles including 12 100% electric models by 2023. Already including the city car i3 and the SUV iX3, the "zero emission" offer will be extended by the end of the year. to the new generation iX large SUV and the i4. The latter, based on a Series 4 GranCoupé, will be the firm's first 100% electric propeller-powered sedan. With this model, we already know that BMW aims to shake the American Tesla which occupies the head of sales with the Model 3. To make the difference, the German manufacturer intends to rely on its more than a century-old history, its image of seriousness and quality and performance of its products. According to BMW, the switch to electric does not mean the end of driving pleasure. This would make the difference with the Tesla Model 3, which the Munich-based manufacturer is clearly aiming for. "All electric vehicles are capable of strong acceleration in a straight line. But that's not enough for us, "we say at BMW.
The BMW i4 will be available in several variants and will even be entitled to an M Performance version. In the best case, its two electric motors will deliver a power of 530 horsepower, ie 20 hp more than the sixth generation of the M3, which has just started marketing. This would allow it to compete with the latest creation of BMW Motorsport on the exercise of 0 to 100 km / h (4 seconds). In terms of range, one of the brakes on the expansion of the electric vehicle with recharging infrastructure, the i4 would be able to cover more than 590 km with a battery charge. Developed from the Series 4 GranCoupé, the i4 inherits the new formal language of the German firm and in particular the last hypertrophied grille with the two vertical nostrils. In the case of the i4, a reference to its electric motor, they are blocked.
.