5 Healthy Roasted Snacks for Dieting
3 min read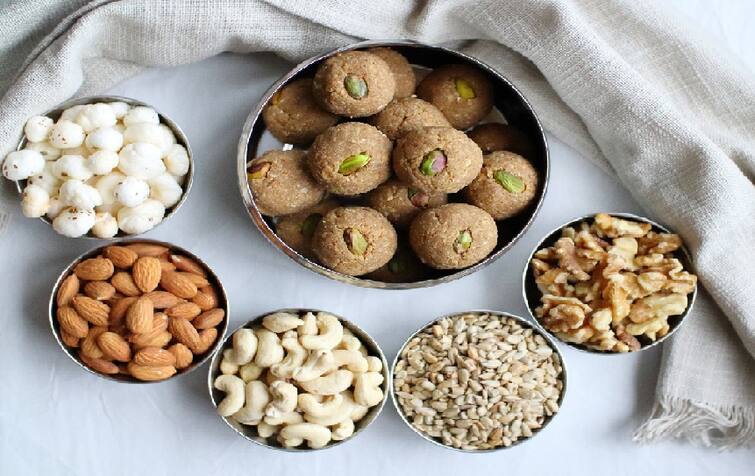 Healthy Weight Loss Snacks: Often people start dieting in order to lose weight quickly. However, it is very difficult to follow dieting for a long time. There are very few people who stay away from junk and processed food keeping health in mind. After dieting for a few weeks, people's cravings increase so much that it becomes difficult to control. In such a situation, you must include some healthy and tasty snacks in your diet. With these snacks, you will also feel less hungry and the craving will also calm down.
Actually, snacks are the most important part in dieting, which decides whether you will lose weight or not. People want to be thin but are unable to give up the habit of eating snacks throughout the day. Due to which the calories start increasing. If you also like to eat snacks more in dieting, then roasted snacks are the best option for you. They are very healthy and low in calories. Know which 5 such roasted snacks you should include in the diet for weight loss.
1- Makhana- Makhana is the best option for you as a roasted snack during dieting. Calorie is very less in Makhana while the amount of sodium is high. At the same time, the glycemic index of makhana is also low. The amount of carbohydrates in makhana is also sufficient. You can eat roasted makhana whenever you feel hungry. If you want, you can also fry them in the microwave.
2- Peas- If you feel like eating something healthy and spicy, then you can eat roasted peas. Roasting peas is quite easy. For this, wash and dry the peas. Now bake them on a baking sheet at 375 degree temperature for 45 minutes. You can have this healthy snack with tea or coffee in the evening.
3- Chana- Chana is the most liked among weight loss snacks. Eating roasted gram provides plenty of protein and fiber. Which helps in reducing weight. Roasted chickpeas also look very tasty to eat. You do not feel hungry for a long time after eating gram, due to which you avoid eating again and again.
4- Seeds- You can also eat roasted seeds in healthy snacks during dieting. You can roast and eat any seeds of your choice. You roast sunflower, bottle gourd and linseed seeds and keep them closed in a jar. You can consume them as a snack when you are hungry. This will keep the weight under control.
5- Almond- Roasted almonds will also help you in dieting. The body gets plenty of fiber by eating almonds. You can eat almonds as a healthy snack. Heart, cholesterol problems are also removed by eating almonds. It also helps in controlling weight.
Disclaimer: ABP News does not confirm the methods, methods and claims mentioned in this article. Take these only as suggestions. Before following any such treatment/medication/diet, please consult a doctor.
Also read: If you want to lose weight, do not eat wheat, eat this flour bread
Check out below Health Tools-
Calculate Your Body Mass Index ( BMI )
Calculate The Age Through Age Calculator
.